It's a few hours before January 2009, and I must say 2008 has been an interesting year for me.
I have eaten in countless restaurants to satisfy my cravings and curiosity; I have been to a lot of places I have never been to; Countless products have come and touched my skin, a few have become staple in my regimen.
One of the products that I have been using for the longest time is the A Bonne Vitamin Complex Intensive Vitamin Hair Treatment.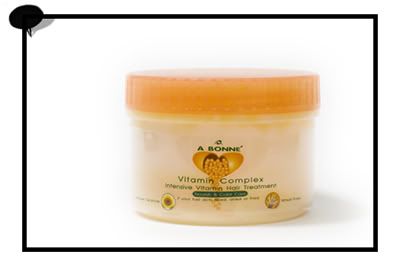 I have been a loyalist of this product since 2005 and I must say, this is the one conditioner I keep coming back to.
Consistency is really thick; you have only to scoop a 5-peso size blob, spread it on you palm and on your hair. Leave on for about five minutes before rinsing and you'll come out of the shower with shiny, silky hair.
I don't feel comfortable with going out of the house with wet hair. Imagine the dirt and dust clinging to it, ugh. I sit in front of the fan while putting on lotion (Let's save the lotion blog for another day) and by the time I step out of the house, I have shiny, smooth, silky hair! This lasts the whole day too, no stringy and rough hair by the time office lets out as I have experienced with other conditioners.
This has been with me for a long time and will surely be with me for a looong loong time to come. Ü
Photo credits: Sheyz Go